About This Site
My name is Eric Elder, and here's a picture of me, my wife and our kids.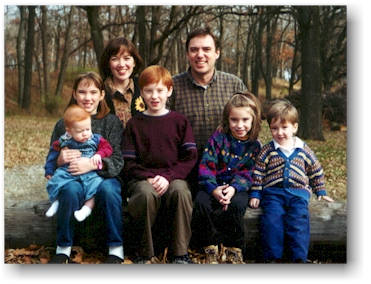 I designed a website a few years ago called The Ranch, and it's got lots of great stuff for adults to encourage them in their faith.
But I wanted to create something just for kids - just for YOU!!
So in the summer of 2000, I had a chance to spend a week with about 200 kids at Vacation Bible School here in Streator. I taught them a little about what a missionary is and what a missionary does.
They wanted to help me reach out to other kids all over the world, so we worked together to create the KidsRanch. The kids helped me write the jokes and stories that you see on this site. They also generously donated their missions money to our ministry to help fund the creation of this site. They even sang a song just for you, which you can listen to on the music page.
I want to thank each of them for helping me create this site. To maintain their privacy, I've not included their names or pictures here, but they know who they are! (see our privacy policy)
Thanks for coming!
P.S. You can click here to read more about our ministry, or you can click here to read more about me!
If you have a website and would like to link to the KidsRanch, or make it part of your website, click here for graphics and instructions.
Special thanks to: